Photodiode-like behavior of jelly dye-sensitized donor-acceptor dendrimers
Pires, R. ; Charas, A. ; Morgado, J. ; Casimiro, TC ; Bonifácio, V.B.
Journal of Applied Polymer Science Vol. 137, Nº -, pp. 48635 - 9 pages, November, 2019.
ISSN (print): 0021-8995
ISSN (online): 1097-4628
Scimago Journal Ranking: 0,54 (in 2019)
Digital Object Identifier: 10.1002/app.48635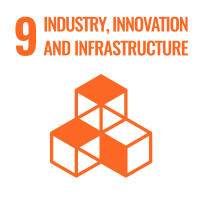 Abstract
Hybrid photodiodes (HPD) systems are on the rise. The growing interest on these devices is mainly due to their power in
image sensing and bioengineering solutions. In this work, a new class of donor-acceptor dendrimers was synthesized and incorporated,
along with a ruthenium sensitizer dye, into low cost devices comprised of one single layer of a biocompatible matrix (agarose). Exploring
different electrodes, low current devices with a counter-electrode dependent response have been successfully assembled at room temperature.
Using a stainless steel electrode, sensitized donor-acceptor dendrimers provide photodiode-like systems having nA dark currents.